Seasoning Pouches
Our seasoning pouches make it very easy for people to make popular Indian dishes. The pouches come with seasoning made with variety of spices and recipe instructions on the back. We also have a ready to use organic turmeric latte blend that can be used to make delicious hot or cold drinks.
Masala Fish Seasoning
---
Use this seasoning to make grilled Masala Fish. Simply rub this Indian seasoning on salmon or any fish of your choice. And then broil it in the oven or grill it on...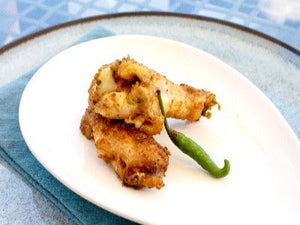 Chicken Wings Seasoning
---
This spice blend allows you to make 1 kg of chicken wings. It's a perfect finger food all year round. It is so easy to cook in an air frier,...
Tandoori Burger Seasoning
---
This seasoning is the game changer for a regular plain burger. When topped with the Mint and Cilantro salsa the flavours are heightened to another level. Try this for a change...