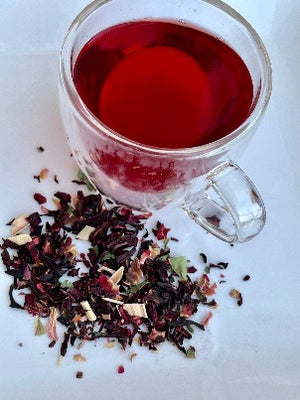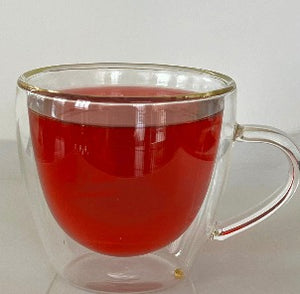 Floral Flow-Hibiscus Tea
This delicious creation is part of our new tea collection. A signature blend made with hibiscus flowers that impart natural sweetness and tartness.  Paired with rose petals, that enhance the floral flavour and fragrance. Lemongrass and a hint of Kaffir lime leaves adds an exotic aroma. This is a perfect cup of herbal tea to be enjoyed hot or cold.  Caffeine free, this tea relaxes and calms the mind.  You may chose to add honey or sweetener of your choice.

The red colour of this herbal tea is due to the presence of Anthocyanins (antioxidants) found in many fruits and vegetables of red, purple and blue colour and are believed to provide many heath benefits.
Ingredients:  Dry hibiscus petals, lemongrass, rose petals, kaffir lime leaves.
Directions: Add 1 teaspoon (2.0 g) of the tea into 1 cup of hot water. Steep for 5-10 minutes, strain and enjoy. Add honey if more sweetness is desired.
This package makes 15 servings.
Size: 30g
---