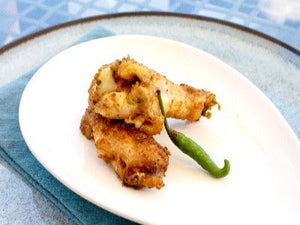 Products
Chicken Wings Seasoning
This spice blend allows you to make 1 kg of chicken wings. It's a perfect finger food all year round. It is so easy to cook in an air frier, in the oven or on the BBQ.  Marinate and freeze smaller portions or even cook and freeze for last minute options.
Here is what people are saying about this recipe
"I have a cookbook that has 80 chicken wing recipes, and this recipe tops them all. It was easy to do and my guests gobbled them up. I didn't have time to run in and out of the kitchen to bbque, so I just baked them in the oven. I've had them on the bbque, but they taste great either way".-Linda
                                        _________________________
"Best wings ever - very easy to make and full of delicious flavour. My whole family and all of our guests absolutely love them. Thank you for this great recipe!"- Aparna
 * You can substitute with boneless chicken thighs for a quick weeknight meal

Ingredients:  Spices (including coriander, turmeric, cumin, mustard, and others), salt, dehydrated onion, mango powder, dehydrated garlic, ginger powder, garlic powder, onion powder.
 Size 25 g
Contains Mustard. May contain traces of peanuts, tree nuts, sesame seeds and soy.
---